August 5-7
Florence is the first city I have visited that is inland. It is set up in some green mountains that make the views very nice. Life seems to be a bit slower here than in Rome and there is much more natural beauty. There were many street performers in Florence. I saw musicians, painters and artists drawing caricatures. The best street performer I saw was a mime. He was advertising for his show and passed out fliers to the hundreds of people who were watching after his performance. Good way to advertise! He was working a busy corner of the main square, where many people were walking. One of his tricks was to walk up behind a random woman passing by, pick her up, and hand her to some random guy. "Happy birthday!" he would yell as he handed her off. Sometimes he would walk very close behind people, mocking them. He was good at hiding when they would turn around to see what the commotion was about. The person would then continue walking, the mime kept mocking! He had white face paint on that came off very easily. He would walk up to a random person, surprise them, then give them kisses on both cheeks, which would leave the kissee's face bright white from the face paint. I've never seen anyone do something so outrageous in public in the U.S. I think it would be awesome but I'm not sure it would be accepted as well as it was here in Europe, as he was pretty obtrusive to random, unwilling people.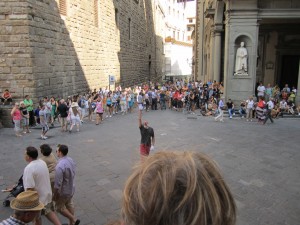 Food
I had a very different food experience than in Rome. 2 types of food businesses here- pizzerias and gellaterias, and both are excellent! And they are everywhere. I tried some chianti wine- very good. The gelatti was amazing and the 2 pizzas I had were very good.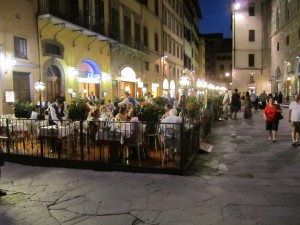 Boboli Gaardens
The Boboli garden is a nice park with a good view of the city. It was too expensive for what it provided but was  a good experience nonetheless. The gardens are divided up with paths and hedges so there are many private spaces. I went to the park on a sunny day, found a patch of grass for myself and took a nap. It was a nice way to start the day for sure.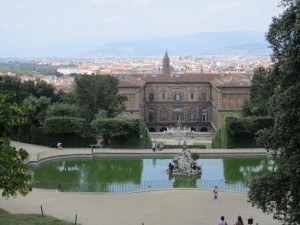 Duomo
The Duomo is a HUGE church. It dwarfs the rest of the city. I decided to climb the bell tower, which is sever hundred steps and provides a nice view of the city. For me, the church did not look very big until I saw people at the top. It has an enormous dome that people can climb to the top of. I thought it was more expensive than it was- they try hard to upsell you- so I decided to climb the bell tower instead.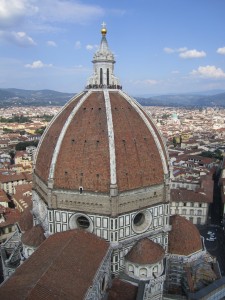 Michelangelo's David
I went and saw this sculpture at a museum but visitors are not allowed to take photos. In addition to the David, there were many sculptures buy Michelangelo and other sculptors, and paintings that look like they belong in churches. Most of the paintings were pulled from monasteries and convents when Tuscany was invaded and the new government outlawed these religious venues.
Water machine
Florence had the coolest (eh?) public water fountain to fill up water bottles! It has regular and sparkling water in the main square, all for free. This saved me at least 10 bucks in buying bottled water and Sprite over the course of 36 hours. At first I did not know it had sparkling water. It has two spigots and I happened to fill up with the sparkling (frizzante) spigot the first time. The water tasted funny! And all the sudden my water bottle started leaking. It was the water escaping from the pressure of the sparkling water. Pretty cool.
Train mishap
Rome to Florence was the first train leg of my trip. I couldn't figure out what train to get on at first because on the board at the station they show the final destination. My train was going on from Florence to Milan, so the board read Milan. Luckily they have people at the station in Rome to help people like me. I found my train and found my car. The train tickets have assigned seating so my next step was to find my seat. It looked like the overhead storage was filling up and there was space as I stepped in the car so I put my backpack up in the storage rack. Then I walked down the car and found my seat was at the opposite end and there was overhead storage above my seat. I thought it would be better to be close to my backpack so I wanted to move it closer. There were many people standing and getting settled in the isle between my bag and me so I thought I would go around the outside of the car to get back to the other side. Right as I stepped out, the train doors closed. I pushed the button on the outside of the car, nothing happened. At this point I realized the train was leaving, I was not on it, but my backpack was. Someone who had a Trenitalia (the train company) shirt on said something frantic and pointed to the other end of the train. I assumed it meant run so I started running in my flip flops with my wallet, phone, camera and computer in tow. About 8 or 10 cars down there was still a car with a door open so I hopped inside. The man who worked for the Trenitalia and was standing outside the open door said something to the tune of "why would you do this?" Now I know to check the time before I hop off the train. I didn't bother moving my bag after all that; I was just happy I was on the train with my backpack.