August 7- 9
Before I set out on my trip, I heard from many people that Venice is very tourist-heavy and there is not much to do there so I did not have high expectations. I normally prefer more natural places that are important for reasons other than just entertainment. However, I stayed in a great hostel with nice people that ran it and met some fun people so I ended up having a great time! The hostel was only 5 minutes from the main train station so it was easily accessible but not near the main attractions.
When I arrived on the 7th, I needed to do my laundry. There was a local laundry mat so I took my dirty laundry there. It cost around 20 USD to do a load of laundry. Ouch. That night I decided to eat dinner at the hostel. The girlfriend of the hostel manager makes dinner every night for 5 euros and it's a good place to meet other people staying in the hostel so I went for it. Food wasn't too great but I met some nice people and we all walked outside for about half an hour.
In the morning after a nice breakfast at the hostel, 5 of us from the hostel decided to go on a walking tour with the manager and his girlfriend. It's a free tour and tips are greatly accepted. They knew some interesting facts about Venice and were a lot of fun. We walked by a shop that takes old 1.5L water bottles, washes them, then sells wine in them. It had at least 15 varieties of wine and we decided to try it out. In Europe it is ok to drink alcohol in public. We drank wine out of plastic water bottles walking down the streets of Venice- pretty strange experience!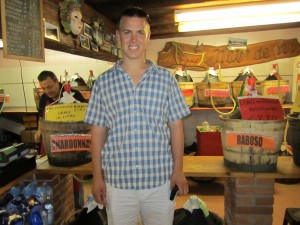 All the streets are very skinny and there are no cars. There are all types of boats in the canals. Some of us were speculating whether couriers delivered packages via the streets or the canals. About five minutes later we saw a boat with UPS painted on the rutter.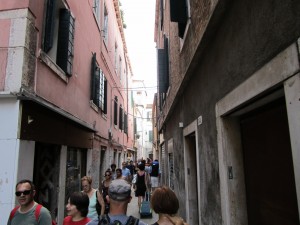 The main square of Venice is very old and has lots of designer stores. The hostel manager told us that one of the columns facing the water on the government mansion on the corner of the main square is closer to the edge than the rest. If you look at the spacing between the columns and the foundation you can see it's true. This signified the pole that criminals would be tied to and punished with lashings. He also told us that it is not possible walk on the ledge between the column and the water with toes facing the water and not holding the column. I tried and failed. If you are ever in Venice, give it a shot.
We learned that Venetian cuisine is heavy on seafood so a few of us decided to go out to eat and try some local food. I got a mixed grilled seafood plate. The fish was OK and the waitress was quite rude.